QUICK INFO
Mobile Health Van Calendar
For questions about the van, please call Kathleen "Kati" Schwartz, MSN, BSN, RN, at 505 231-2382
Santa Fe County Mobile Health Van
Mission: The mission of the Santa Fe County Mobile Health Van Program is to increase access to health care for vulnerable populations in Santa Fe County by (1) providing high-quality health screenings at no cost, (2) promoting preventive health care practices and chronic disease management, and (3) connecting people to social services and health care systems to improve their overall quality of health and well-being.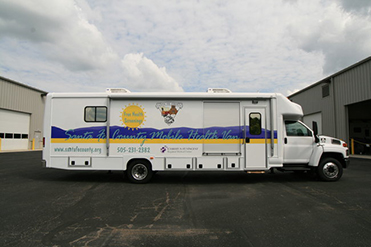 Where you can visit the Van: The County Mobile Health Van travels throughout Santa Fe County to senior centers, community centers, food distribution sites, health fairs, pueblos, shopping centers, and other community locations. A monthly calendar is posted on the Santa Fe County website. Locations we visit include County Senior Centers, County housing, and City senior centers and housing. View a full listing of locations »
Mobile Health Van staff: The Mobile Health Van is staffed by a registered nurse and a driver/assistant. The registered nurse is licensed to perform health screenings and immunizations and is trained to assess health problems and refer patients to health care providers and systems. The registered nurse is not licensed to diagnose and treat patient health care problems.

Free health care services provided: The Mobile Health Van nurse offers the following screenings: blood pressure, oxygen percentage saturation level, pulse, weight, BMI testing, blood glucose testing, total cholesterol testing, hemoglobin A1C testing, and seasonal flu vaccines. View guidelines regarding blood pressure and blood glucose testing » Santa Fe County Discount Prescription Cards are available. The Santa Fe County Resource Directory and a wealth of other health information are available in English and Spanish.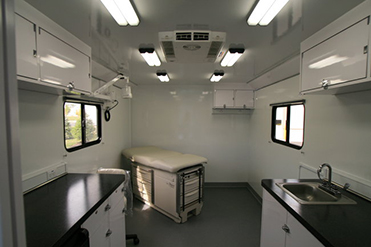 The Mobile Health Van is equipped with an automated lift to accommodate people who are unable to negotiate stairs or who rely on a wheelchair or an electric scooter for mobility.