Small Business and Non-profit Stabilization Grant Program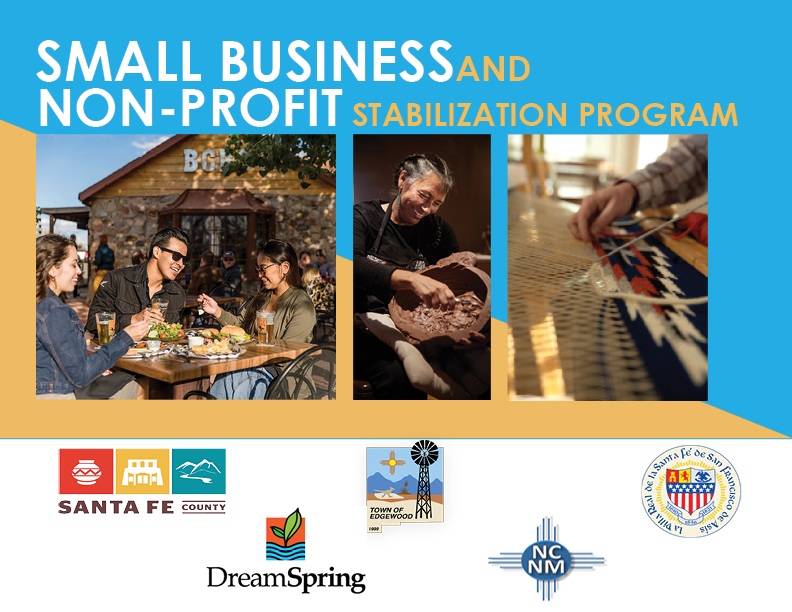 para información en español ver aquí
IMPORTANT NOTICE: Applications will not be accepted after 12.18.2020 at 12 PM
Join us every Tuesday from 5-6PM for a casual Q&A on preparing an application for the Small Business and Non-profit Stabilization Grant Program. Please register below:
To register click here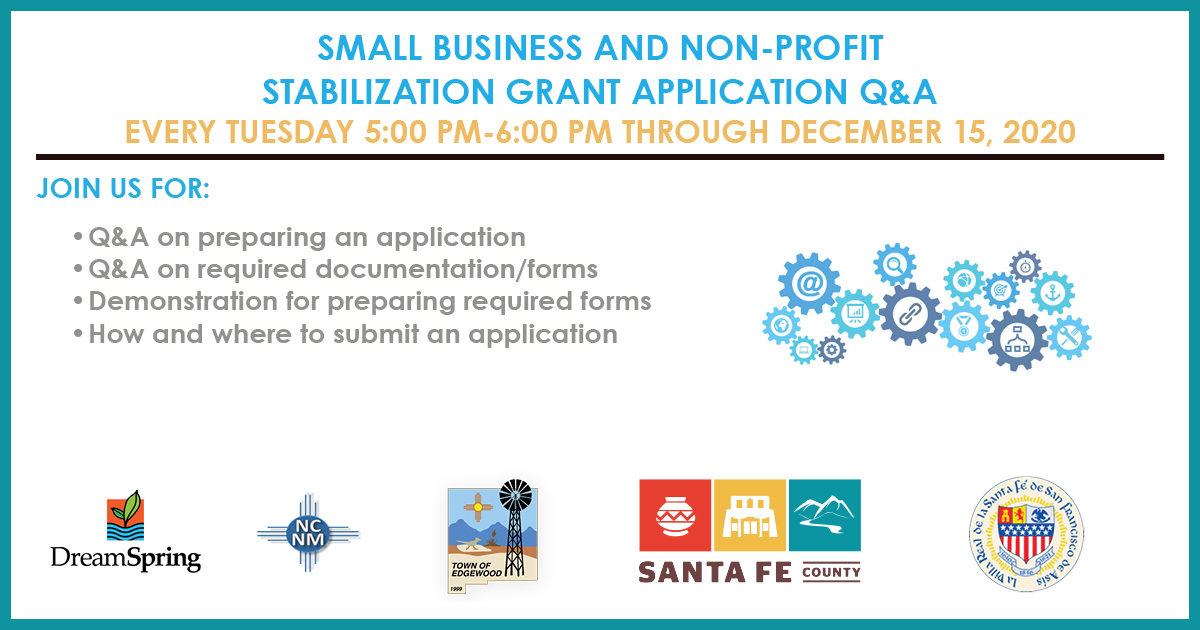 For more information about the program please click here to see our webinar on the program!
Applications are Now Open (Applications will not be accepted after 12.18.2020 at 12 PM)
Applications for the Small Business and Non-profit Stabilization Grant Program are now open!
Click here to download the application.
Please visit one of our partnering agencies, by clicking on their logos below, to:
receive technical assistance in completing the application;
submit the application.
NOTE: You should only submit your application to one of the partner agencies.
Partnering Agencies
For any inquiries or questions about this program please email Santa Fe County staff at: [bot protected email address]
Support Organizations
Receiving Updates on Program
To stay up-to-date on the latest news regarding this program please sign-up for our newsletter here or regularly visit this page for updates.
For more information concerning this program and the eligibility requirements and required documentation please read below.
About
Santa Fe County, The City of Santa Fe, and Town of Edgewood are providing CARES ACT emergency financial support through the Small Business and Non-profit Stabilization Grant program for qualifying businesses and non-profits to assist with costs associated with business interruption caused by COVID-19 and the resulting public health orders.
This program is offering one-time grants up to $25,000 to qualifying small businesses and non-profits to cover a variety of reimbursable costs that have been brought about due to COVID-19. Funding is limited and offered on a first come, first serve basis.
Starting on October 9th applications will be available and accepted through our partnering agencies. To learn more about how to begin preparing for this opportunity please read the sections below.
Qualified Expenses
Business Continuity: this includes non-owner payroll, rent, scheduled mortgage payments, insurance, utilities, or marketing.
Business Redesign: this includes, but is not limited to, spending on reconfiguring physical space and/or PPE for adherence to COVID-Safe Practices, such as installing plexiglass barriers, purchasing, web-conferencing or other technology to facilitate work-at-home, PPE for employees, or temporary structures to mitigate the spread of COVID-19.
Eligibility Overview

Small Businesses and nonprofits that are eligible for the Small Business and Nonprofit Stabilization Grant Funding must:
Possess a current Santa Fe County, and/or City of Santa Fe, and/or Town of Edgewood Business License (Businesses or Nonprofits in the City of Española must apply to the City of Española for Grant Funding)
Have a principal business address that is registered and located within Santa Fe County
Businesses or organizations cannot exceed 100 employees (sole proprietorships qualify);
Demonstrate a reduction of at least 25% in revenues due to COVID-19
Have incured documented expenses for grant between March 1 and December 30, 2020
Have been in business since, or prior to, March 1, 2019
Revenues of business or non-profit must not exceed $5,000,000 prior to impact of COVID-19;
If nonprofit, received its 501(C)(3) designation prior to March 1, 2019 and have audited financials ( if earned more than $500,000 in revenue) and be determined to be in good financial standing
If non-profit, the organization must have no part of its net earnings going to benefit any member, founder, contributor or individual
Be current on all New Mexico State Taxes
Agree to explore and review business counseling for financial and business continuity planning with entrepreneurial support organizations (ESOs).
What's Next?!
Visit one of our partnering agencies' websites to:
download and access the application;
receive technical assistance for completing the application;
submit the application for the grant funding opportunity.
NOTE: Some of the required documentation may change as we receive updates
All interested applicants who meet the eligibility requirements listed above should prepare and locate the following documents that will be required to apply for the funding:
If applicable, a copy of a Certificate of Good Standing for State of New Mexico (found here)
New Mexico Tax ID Number and proof of compliance with NM Tax and Rev (https://tap.state.nm.us/tap/_/#7)
? Once on the NM Tax and Rev. website click "Check CRS Status" and fill out the form.
A copy of Santa Fe City, County or Town of Edgewood business license
Unaudited (or audited) financial statements for the purpose of demonstrating revenue decrease due to COVID-19:

2019 and 2020 Q1 and Q2 Profit and Loss, as available cash flow statements, and balance sheet
And, ES903A Form (this is the reporting form for workforce solutions) or completed payroll spreadsheet showing number of employees, hourly wage, and employment status (full or part time) for precious three (3) quarters)
And, copies of most recent Federal and State Tax Returns (preferably FY 2018 & 2019) or equivalent (Schedule C is equivalent for
Sole Proprietors)(Form 990 for non-profits)

If a non-profit, a 501(c)(3) designation form, most recent audited financial statements, current list of board members, current and previous year organizational budget including all sources and uses of funds
Gather receipts and complete the spreadsheet for the requested eligible business continuity (including payroll) and redesign expenses you wish to receive funding for (up to $15,000). (Spreadsheet found

here

)
If you have received funding from the Paycheck Protection Program (PPP) or the Economic Injury Disaster Loan (EIDL) program please complete the certification form found

here

or provide official documentation detailing how the funding from these programs was spent.
Updates:
New guidance from the New Mexico Department of Finance Administration has deemed businesses with no employees as eligible to apply for the grant funding