QUICK INFO
Per County Ordinance, recycling of reyclable materials is required at Convenience Centers. Disposing of recyclables in refuse bins is prohibited.
Solid Waste and Recycling
April 2016 Update: Proposed Residential Solid Waste and Recycling Collection District
At the direction of the County Commission at their March 29, 2016 meeting, staff developed an ordinance to require that all solid waste haulers providing residential refuse service in the more densely populated areas surrounding the City of Santa Fe also provide curbside recycling service as a single "bundled" service for a single fee. The area identified is referred to as the "Solid Waste Collection District" in the proposed ordinance (Exhibit A). In the ordinance, residents would not have the option of "opting out" of recycling service, if they are receiving curbside refuse service.
This approach was developed as an alternative to the original ordinance (heard by the Board on June 30, 2015) which would have established exclusive private hauler franchise areas in three proposed districts. The franchising ordinance would have had the County competitively select a single hauler for each of the three districts. Haulers other than the County-selected hauler would have been prevented from operating in the district. Homeowners desiring curbside service would have been required to use the County-identified hauler.
Significant public opposition was received to that proposal. The draft franchising ordinance for the three Collection Districts was abandoned in favor of a compromise "bundled refuse and recycling service" approach, as represented by the attached ordinance. The single, consolidated Solid Waste Collection District in the proposed ordinance includes the same geographic area as the three districts in last year's franchising ordinance. This new approach maintains existing private hauler competition and homeowner choice of hauler – two issues important to the public. Staff feels that the proposed ordinance continues to significantly advance the Commission's waste reduction and recycling objectives –the primary goal of last year's franchising ordinance. Citizens that curently self-haul their refuse to a County Convenience Center or BuRRT, would continue to be able to do so under the proposed ordinance.

T

entative Date for County Commission Public Hearing on Proposed Ordinance: Tuesday, May 30, 2016

Public Hearings are to begin no earlier than 5 p.m. in the Commission Chambers, 102 Grant Ave. The Commission meets on Tuesday, April 26th to set and finalize the date for the hearing. The date could change from May 30, 2016.

Santa Fe County Solid Waste and Recycling
Santa Fe County operates seven drop-off Solid Waste Convenience Centers for the disposal of household refuse and the collection of recyclable materials. Disposal of refuse at Convenience Centers requires the purchase of a Solid Waste Permit. Drop-off of recyclables at all Convenience Centers is free. In addition to the seven full service Convenience Centers, the County also operates a recycling drop-off center at Rancho Viejo.
Commercial businesses generating less than 850 pounds of refuse per month may also use the Convenience Centers.
The County does not provide or offer curbside refuse or recyclable collection service. A number of private companies provide such service for a fee.
Locations to purchase a permit, permit options
Recycling

All Santa Fe County residents may recycle paper, plastic, cardboard, aluminum, tin cans, and glass for FREE at any Convenience Center.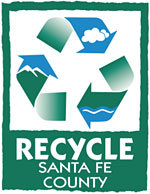 Solid Waste Convenience Centers
Location

Open

Hours

Closed

Eldorado US 285
Wednesday – Sunday
8 a.m. to 5 p.m.
Monday and Tuesday
Jacona NM 502
Wednesday – Sunday
8 a.m. to 5 p.m.
Monday and Tuesday
La Cienega CR 54B
Wednesday – Sunday
8 a.m. to 5 p.m.
Monday and Tuesday
Nambe CR 503
Wednesday, Friday, Saturday and Sunday
8 a.m. to noon
1 p.m. to 5 p.m.
Monday, Tuesdayand Thursday
San Marcos CR 42
Wednesday, Friday, Saturday and Sunday
8 a.m. to 5 p.m.
Monday, Tuesday and Thursday
Stanley CR 14A
Wednesday – Sunday
8 a.m. to 5 p.m.
Monday and Tuesday
Tesuque NM 592
Wednesday, Friday, Saturday and Sunday
8 a.m. to noon
1 p.m. to 5 p.m.
Monday, Tuesday and Thursday
Rancho Viejo Recycling Center
Friday and Saturday
8:30 a.m. to 4:30p.m.
Sunday - Thursday
(Solid Waste Convenience Centers are closed on Holidays)
Map of Santa Fe Solid Waste Convenience Centers locations (PDF)
ReUse Area at the Eldorado Convenience Center
The ReUse area at the Eldorado Convenience Center is a space designated specifically to saving still usable items from the landfill. The area is intended as a "last resort" space where usable or easily repairable items can be diverted from the landfill.
Residents taking items to the ReUse Area will be instructed by staff to leave the items in the ReUse Area (near the entrance, adjacent to the recycling dumpsters).
Items will be available for "adoption" by other station patrons on a first-come first-served basis. Items not adopted in a reasonable time will be offered to charities. If not suitable to a charity they will be sent to the landfill.
Illegal Dumping
Santa Fe County Ordinance No. 2005-05 prohibits the dumping, accumulating or scattering of solid waste. Any person convicted of illegal dumping will be guilty of a crime. First time offenders maybe penalized with a fine up to $500 and/or 60 days in jail. Subsequent violations carry a penalty of up to $1,000 and/or 90 days in jail. The improper or illegal disposal of hazardous waste carries a penalty of up to $5,000 and/or 90 days in jail.
To report illegal dumping or littering, please call the County at (505) 992-3010 or the Solid Waste Compliance Officer at 1-505-629-2937. You may also call New Mexico Clean & Beautiful at 1-800-867-7666 .
Contact Us
(505) 992-3010 during business hours (Mon - Fri, 8:00AM - 5:00PM) or 992-3017 any time for pre-recorded information.