Solid Waste and Recycling
Santa Fe County Solid Waste Permits On Sale May 20
The Santa Fe County 2013-2014 Solid Waste Permits will be available for sale beginning Monday, May 20, 2013. The prices for the permits will remain the same as last year. All Santa Fe County residents can recycle paper, plastic, cardboard, aluminum and glass for free at any Transfer Station.
The current 2012-2013 permits were originally valid from July 1, 2012 through June 30, 2013, but have been extended and are now valid through July 31, 2013.
Permits available May 20, 2013 at the following locations:
Ken and Patty Adams Senior Center, 16 Avenida Torreon, Eldorado, NM
Pojoaque Satellite Office, 5 West Gutierrez, suite 9, Pojoaque, NM
Edgewood Senior Center, 118 Quail Trail, Edgewood, NM
Santa Fe County Public Works Complex 424 NM 599, west frontage road, Santa Fe, NM
Permits available May 28, 2013 at the following location:
Santa Fe County Treasurer's Office, 102 Grant Ave. Santa Fe, NM
Santa Fe County operates seven drop-off Solid Waste "Convenience Centers" for the disposal of household refuse and the collection of recyclable materials. Commercial businesses generating less than 850 pounds of refuse per month may also use the Convenience Centers. Disposal of refuse at Convenience Centers requires the purchase of a Solid Waste Permit. Drop-off of recyclables at all Convenience Centers is free. In addition to the seven full service Convenience Centers, the County also operates a recycling drop-off center, open on Fridays and Saturdays, at Rancho Viejo.
The County does not provide or offer curbside refuse or recyclable collection service. A number of private companies provide such service for a fee.
Solid waste, recycling requirements, and fees are included the the County's Solid Waste Ordinance No. 2010-5.
Contact Us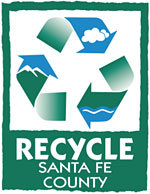 (505) 992-3010 during business hours (Mon - Fri, 8:00AM - 5:00PM) or 992-3017 any time for pre-recorded information.
Recycling Information
If you're unable to download or print the recycling brochure below, it can be mailed to you upon request by calling 992-3010.
Download Santa Fe County Guide to Waste, Recycling and Reuse »
Illegal Dumping
Keep Santa Fe County Beautiful!! Never Illegally Dump in our Beautiful Desert and Arroyos.
Santa Fe County Ordinance No. 2005-05 prohibits the dumping, accumulating or scattering of solid waste. Any person convicted of illegal dumping will be guilty of a crime. First time offenders maybe penalized with a fine up to $500 and/or 60 days in jail. Subsequent violations carry a penalty of up to $1,000 and/or 90 days in jail. The improper or illegal disposal of hazardous waste carries a penalty of up to $5,000 and/or 90 days in jail.
To report illegal dumping or littering, please call the County at 992-3010. You may also call New Mexico Clean & Beautiful at 1-800-867-7666 or the Solid Waste Compliance Officer at 1-505-629-2937.
Related Links