Treasurer
Our Interactive Voice Response (IVR) system is now available in English and Spanish!To pay your bill by phone using the automated bill payment system, call 833-339-1305 and follow the prompts. Payments can be made by Visa, MasterCard, and electronic check.
Please note: Paymentus charges a service fee for using this service.
.
ATTENTION All Agriculture/Grazing Customers:
Our internal operating system listed agriculture values as "Manufactured Homes." This affected approximately 2,000 Santa Fe County customers. The grazing exemption was intended to replace the original land value. The exemption displayed on the bill is in error, however,
the amount due on the bill IS correct.
Please do not contact the County Assessor's Office regarding this issue. Please contact the County Treasurer's office for any questions at 505-986-6245.
Patrick Varela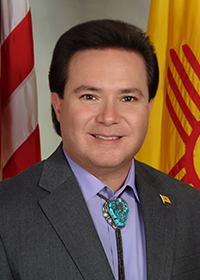 (D) Term 2016 - 2020

102 Grant Ave.
Santa Fe, New Mexico 87501
(505) 986-6245
[bot protected email address]
2014 Conflict of Interest and Financial Disclosure Statement »
Mission Statement
The Constituents and Internal customers of Santa Fe County are the number one priority in this office. They are to be treated with the utmost respect, and they will be serviced in a prompt, friendly, respectful, and efficient manner whether be in person, telephone or by e-mail.
We in the Treasurer's office are here to enrich Santa Fe County by; responsibly managing your dollars by distributing funds on a timely basis, and investing your money into investments approved and in accordance with the Santa Fe County Investment policy. The policy stresses safety, liquidity, and will achieve the maximum yield to the county.
"Our Commitment to Santa Fe County"
Provide 5-Star Quality Customer Service to both Internal and External Customers;
Produce and Maintain accurate financial records;
Quality Tax Collection;
Ensure Internal Control Measures, Safeguarding Your Money;Work Closely with all County Commissioners and the people of their Districts;
Maximize the rate of return on all County Investments following the steps of Safety, Liquidity and Yield
Contact Us
We are open to the public during the following business hours: Monday through Friday from 8 a.m. until 5 p.m. Closed for business on Saturdays, Sundays and County Holidays.
An after-hours secure payment drop box is available in front of the administration building at the address below. Please place check or money order in an envelope and drop it in the secure box for collection.
Mailing Address for payments:
P.O. Box T
Santa Fe, NM 87504
Santa Fe County Treasurer's Office
102 Grant Ave.
Santa Fe, New Mexico 87501
(505) 986-6245
[bot protected email address]
Links