DWI Program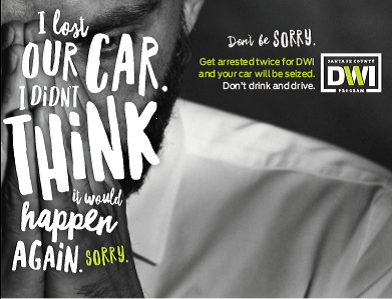 "The Santa Fe County DWI Program promotes the safety of the people in Santa Fe County by developing and implementing programs to prevent or reduce the incidence of DWI, alcoholism, and alcohol and other drug abuse in Santa Fe County."
Cab Ride Home Program

The Cab Ride Home program has been canceled because of the abrupt closing of Capital City Cab Company. The Santa Fe County DWI Program is activity seeking an alternative program or options to help people get home safely. It is always best to not drink and drive so please find the best for you to get home from a bar or party if you suspect you may have had too much to drink. The consequences are too great to make the choice of driving yourself. While the DWI program finds a new solution you may find that one of the ride services to be your best option. Both Lyft and Uber operate in Santa Fe.
DWI Links - Resources
Funds for these efforts come from liquor excise taxes administered by the New Mexico Department of Finance and Administration, fees paid by convicted DWI offenders in local courts administered by the NM Traffic Safety Bureau, and other fees.
Ignition Interlock Information and Financial Aid Application »
Download Frequently Called Numbers »
www.envisionyourfuture.org »
Alcohol & Substance Abuse Prevention
Evidence-based Prevention, based on the six Center For Substance Abuse Prevention Strategies, are in place to address the needs of all community members and all school students about the risks of drinking and driving, behavior change and underage drinking prevention. Here are some examples: Model programs such as "Protecting You Protecting Me" and "Envision Your Future" are implemented in Elementary and Middle Schools while booster and individual presentations are made in Middle and High School health classes regarding the dangers and consequences of substance abuse among young people. Support is provided to the youth program at San Ildefonso Pueblo. Media campaigns are conducted through print, radio and movie theater advertisements. Media Literacy programs have been implemented in several middle schools and will be expanded to the elementary schools to encourage youth to make smart and healthy choices. The Curriculum Infusion program has been implemented at the Santa Fe Community College. Designated Driver efforts are promoted numerous times each year, and the nationally recognized "Every 15 minutes" program is implemented in at least one local high school each year. Additionally, ongoing efforts are addressing environmental and other evidence based programming needs in Santa Fe County. We have also established and are members of "The Santa Fe Underage Drinking Prevention Alliance" that works with the Santa Fe Public Schools, the NM Department of Health and other community organizations on a multitude of prevention projects. Additionally, we have established the "Santa Fe Choices Task Force" which consists of members from St. Vincent Regional Medical Center & the Santa Fe County Fire Department. The Choices Task Force works on implementing school-wide health programs in Santa Fe County. Furthermore, we work closely with the Moriarty and Pojoaque School Districts, and we provide technical assistance to numerous organizations in Santa Fe County and surrounding areas.
Enforcement
Monthly meetings are held to coordinate the efforts of law enforcement agencies in Santa Fe County. Participating agencies include the Santa Fe County Sheriff's Office, Santa Fe Police Department, New Mexico State Police (Districts 1 and 7), NM Motor Transportation Police Division, NM Special Investigations Division, Edgewood Police Department, Pojoaque Tribal Police, Tesuque Tribal Police, Bureau of Indian Affairs Law Enforcement, and Special Investigations Division of the Department of Public Safety. These agencies collaborate in conducting activities such as DWI checkpoints, DWI saturation patrols, DWI warrant enforcement, public educational events, and underage drinking enforcement efforts.
Alternative Sentencing
The Santa Fe County DWI Program supports alternative sentencing for both minors and young adults. Current programs include Teen Court and the Youth Drinking Driver Visitation Program at St. Vincent Hospital.
Screening/Compliance Monitoring
The Santa Fe County DWI Program supports screening of DWI Offenders for Magistrate court. The mandatory screening process generates data on DWI offenders for a state-wide database. DWI offenders are closely tracked to ensure compliance with court ordered sanctions.
Outpatient Treatment
DWI Offenders are screened and assessed through The Santa Fe County CARE Connection. A Licensed therapist completes a detailed assessment with each offender individually, determines the level of care that is appropriate based upon the severity of the offender's alcohol problems and makes a recommendation for necessary treatment. If a recommendation is made, it becomes mandatory for an offender to complete the treatment per court sentence. There are several programs that assist offenders pay for their treatment. The "Access to Recovery" federal voucher is available for those who meet program eligibility criteria. If the DWI offender does not qualify for the voucher, the DWI Program has contracts in place with local treatment providers to provide treatment to offenders at a minimal cost, or they may qualify for aid through the Santa Fe County Healthcare Assistance Program (HAP).
DWI Planning Council
RESOLUTION (1997-87) ESTABLISHING A DWI PLANNING COUNCIL IN ACCORDANCE WITH STATE LAW
Will prepare a comprehensive plan that documents the extent of the County and City's alcoholism problem, DWI resources and needs regarding DWI, alcoholism and alcohol or other drug abuse issues, including prevention, screening, assessment, treatment and alternative sentencing programs. Upon approval of the plan by the BCC, the Plan will be submitted to the Department of Finance for approval and integration into the statewide alcoholism services plan.
View DWI Planning Council Members, Meetings, Agendas and Minutes »
For additional information on DWI efforts and statistics in the State of New Mexico please visit the New Mexico DWI Coordinators Affiliate website at www.nmdwi.org.
DWI Contact Information
Coordinator
(505) 992-9840, [bot protected email address]
Screening & Assessment
(505) 992-9846, [bot protected email address]
Prevention Specialists
(505) 992-9844, [bot protected email address]
(505) 992-9856, [bot protected email address]
Accountant
(505) 992-9843, [bot protected email address]
Fax: (505) 992-9855
We are open to the public during the following business hours: Monday through Friday from 8 a.m. to 5 p.m. We are closed for business on Saturdays, Sundays, and County Holidays.