Please utilize the "Click here to Submit Your Request" box below to notify Santa Fe County Public Works Department of any routine road maintenance concerns in your area on County maintained roads.
Once you click on the link, you can use the system by typing in the name of the County road or by using the interactive map to select the area where your road maintenance request is located. When you are submitting your request, be as specific as possible when providing descriptive information.A login is required to track the work orders that have been submitted.
Once you have submitted a request, you can view the status of your request, see if anyone else has submitted a similar request or see if there are any other requests in your area.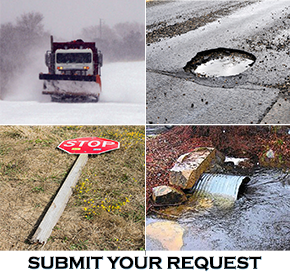 Note:Santa Fe County can only provide maintenance on County maintained roads.
The number of requests does not increase the response time in which a request will be processed.
For more information, to request a street sign be placed on your street, or to report a down stop sign please call 505-986-6219 or send an email to publicworks@santafecountynm.gov
Frequently Asked Questions (FAQ's)
Click on questions to view answers
Why am I asked to create a user login before I submit a request?
How long will it take Santa Fe County to process my request?
Why can't Santa Fe County provide maintenance on my private road?
How do I know if I live on a County road or private road?
My address will not come up in the system, how do I submit a request?
I received an "Unable to Fulfill" notification on my request, what does this mean?