QUICK INFO
INSPECTION OF SHERIFF'S PUBLIC RECORDS REQUESTS
Use the below e-mail address to submit your request to the Sheriff's Custodian of Public Records to inspect sheriff's office public records.
E-mail the Sheriff's Records Custodian at:
[bot protected email address]
OFFENDER WATCH
Visit OFFENDER WATCH and search for, or monitor, the whereabouts, conduct and compliance status of registered sex offenders in Santa Fe County.
NIXLE ALERTS
GET ALERTS TO YOUR MOBILE OR EMAIL VIA NIXLE!
Visit www.nixle.com and register to receive up-to-date alerts for crimes, traffic concerns, natural disasters, and other emergency notifications from the Santa Fe County Sheriff's Office.
NIXLE is a free service that allows you to receive trusted, up-to-the-minute, neighborhood information for where you live, work, visit – or for where your family and friends are located throughout the county. The information you want, from community messages to time-sensitive urgent public safety alerts for the locations you want, whether it's home, work, or where friends and family live – anywhere in the county with the delivery you want, information is instantly available by text message, email, or web.
Click here to view our latest notifications !
Prescription Drug Drop-off
Dispose of your old and unwanted prescription drugs at the Santa Fe County Sheriff's Office, 35 Camino Justicia, Santa Fe, NM.
You can drop off old and unused prescription drugs M-F, 8:00 a.m. - 5:00 p.m.
Call 505 986-2455 if you have questions.
---------------------------------
Santa Fe County Sheriff's Office is Also on

Sheriff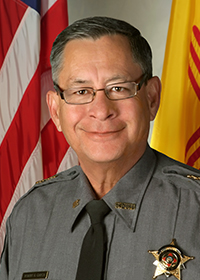 SANTA FE COUNTY SHERIFF ROBERT A. GARCIA
First Term: 2011 - 2014
Second Term: 2015 - 2018
35 Camino Justicia
Santa Fe, NM 87508
Public Safety Complex
505-986-2455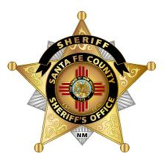 MISSION STATEMENT
Our mission is to protect and serve the people of Santa Fe County.
Integrity, commitment, leadership and teamwork are core values of our organization.
Our agency is dedicated to improving the public safety and welfare of the communities we serve by working in partnership with the residents and communities of our diverse county.
We pledge to achieve professional excellence by providing thoughtful, courteous and responsive law enforcement endeavors as we undertake our duties of public service and safety on behalf of the residents of Santa Fe
Robert A. Garcia Conflict of Interest Statement 2017.pdf
CRIME MAPPING FOR SANTA FE COUNTY - CrimeReports.com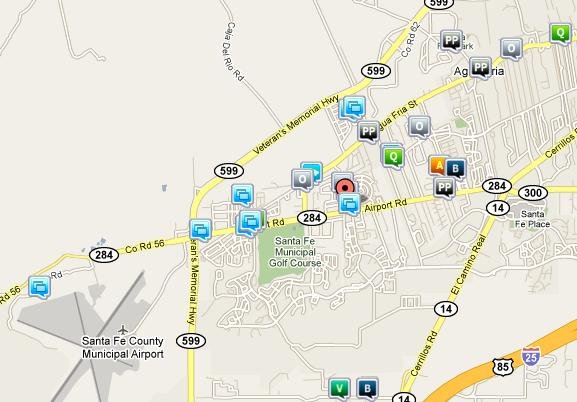 Crime Mapping is a valuable resource to examine official crime data and sex offender information. The Santa Fe County Sheriff's Office offers this service in partnership with CrimeReports.com.
CrimeReports.com allows users to view, analyze and learn about crime and preventative patrols in Santa Fe County. Crimes within Santa Fe County are mapped by block number within 72-hours. The data can be searched by crime type and includes case numbers. In CrimeReports.com data is available for up to six months.
CrimeReports.com also sends crime alerts by e-mail to subscribers. A free iPhone app is also availalbe.
Visit CrimeReports.com. It's the only near real-time source for both official crime data and sex offender information.
Neighborhood Watch organizations can use CrimeReports.com to raise awareness with neighbors and neighborhoods they live in.
More about the Crime Reports iphone app.
* The CrimeReports iPhone app allows you to filter crimes by location or address, crime type, and customizable date range
* View data on the crime map or in a list view
* View national sex offender data alongside crime in your neighborhood
* Sign-up for free, automated, email crime alerts
* Request the participation of your local law enforcement agency if they're not already on-board
Click here to visit Santa Fe County Crime Maps
Click here to learn more about the iphone app.
Sheriff's Office Concerns or Comments? Send us an e-mail!
If you have an opinion, concern, or comment regarding the Santa Fe County Sheriff's Office feel free to send an e-mail to: [bot protected email address] .
PLEASE NOTE: This e-mail address is not the means by which to report a crime or to request assistance.
For any emergency you can call Emergency Dispatch at 911
For a non-emergency but requiring assistance you may call 505 428-3720.
Y para nuestra población Hispana del Condado de Santa Fe, pueden dar su opinión, alabanzas o dar comentario, o quieren apuntar cualquier asunto tocante del Alguacil de Policía del Condado de Santa Fe, se puede enviar correo electrónico a [bot protected email address]
Contact Us
Santa Fe County Public Safety Building
35 Camino Justicia
Santa Fe, NM 87508
(505) 986-2455

In memory of Leo Gurule.