Building and Development Services
Mission Statement
To guide future growth and development through effective planning, zoning, permitting and enforcement, preserve resources for future generations, and to address the needs and concerns of its citizens while ensuring their quality of life.
Department Function
The Santa Fe County Building and Development Services Department provides services such as zoning, subdivisions, lot splits, development permits for building, business registrations, code enforcement, hydrology, terrain management, special-use permits, and utility allocation to County citizens.
Click on the image of the Santa Fe Interactive Zoning Map (below left) to determine the zoning of your property. Click on the Santa Fe County Sustainable Land Development Code (below right) to read the zoning regulations.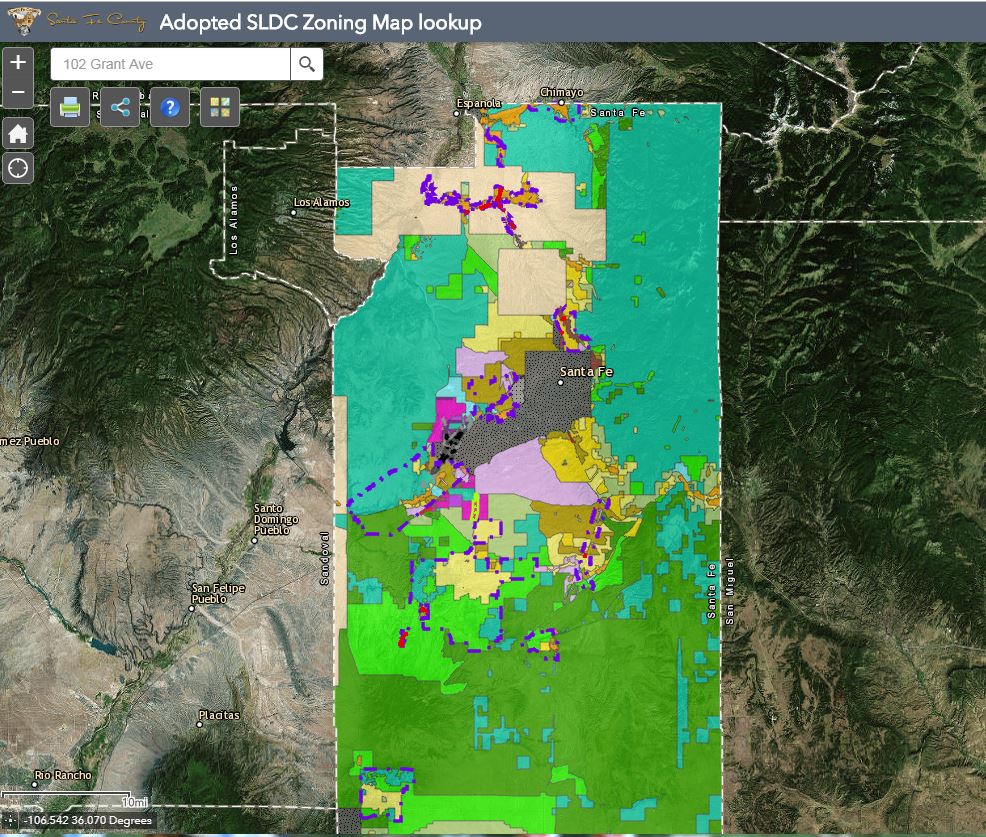 Pre-Application Meeting Process
The Santa Fe County Growth Management Department is implementing a formalized pre-application meeting process in order to better serve our customers. Pre-application meetings will now be conducted on the first Thursday of each month, from 10:00 a.m. through 12:00 p.m. Applicant's whose projects are required by Code to conduct a pre-application meeting prior to submittal, should contact our offices at 986-6225, to schedule a pre-application meeting. These requests should be placed a minimum of one week in advance. Developments that are not required by Code to conduct a pre-application meeting may also request a meeting to aid in the submittal and review process.
Members of County staff from numerous departments, including Public Works, Fire, Water and Wastewater, Affordable Housing, Open Space and Trails, Planning and Development Services will be attending these meetings to address development related questions.
Code Inspection Email
The Building and Development Services Department of Santa Fe County's Growth Management Department recently implemented an inspection process for new construction within the unincorporated areas of Santa Fe County. This improved process includes the requirement that certain construction activities undergo a pre-final and/or final inspection. The new email address may also be utilized to contact the County regarding potential Code violations that any member of the public would like to have scrutinized by County Code Enforcement Officers.
The address is: [bot protected email address] . Please indicate in the email reference line "Inspection Request" and in the body of your email the site address and the type of inspection you are requesting, along with your contact information.
Implementation of this program will improve customer service to residents of Santa Fe County who are building or making additions to their property, and assist our Code Enforcement Officers in monitoring illegal construction activities.
Rick Lovato - 986-6242 or [bot protected email address]
Code Enforcement Inspector Senior, Central Area
Gene Portillo - 995-6531or [bot protected email address]
Code Enforcement Inspector Senior, Southern Area
James Garcia - 505-986-6343 or [bot protected email address]
Code Enforcement Inspector, Central Area
Dominic Sisneros - 995-2725 or [bot protected email address]
Code Enforcement Inspector, Northern Area
Contact Us
Building & Development Services
Vicki Lucero - 986 - 6222 or [bot protected email address]
Building and Development Service Manager
Paul Kavanaugh - 995-2716 or [bot protected email address]
Building & Development Supervisor, Financial Guarantees
Jose Larranaga - 986-6296 or [bot protected email address]
Conditional Use Permits, Overlay Zones, Wireless Communication Facilities, Commercial Development, DCIs
Miguel "Mike" Romero - 986-6382 or [bot protected email address]
Vacation of Subdivision Plats, Time Extensions, Non-residential permitted uses, Conditional use permits, Variances, Appeals
John Lovato - 986-6228 or [bot protected email address]
Terrain Management, Flood zone Determinations, Variances, Appeals, Conceptual Plans, Conditional Use Permits
Nathan Manzanares - 986-6226 or [bot protected email address]
Subdivisions, Conceptual Plans, Non-residential permitted uses, Conditional Use Permits
Gabriel Bustos - 986-6225 or [bot protected email address]
Home Occupations, Film Permits, Temporary Use Permits
Kenneth Quintana or [bot protected email address]
Home Occupations
Erika Garcia - 986-6317 or [bot protected email address]
Residential Development Permits
Jerome Roybal - 986-6360 or [bot protected email address]
Residential Development Permits
Jessica Gonzales - 986-6225 or [bot protected email address]
Administrative Assistant
OTHER IMPORTANT NUMBERS
Footing Inspections (CID) (505) 827-7043
Septic Questions (EID) (505) 827-1840 / Well Questions (State Engineer) (505) 827-6175
Construction Industries (505) 476-4700
City of Santa Fe Land Use (505) 955-6571