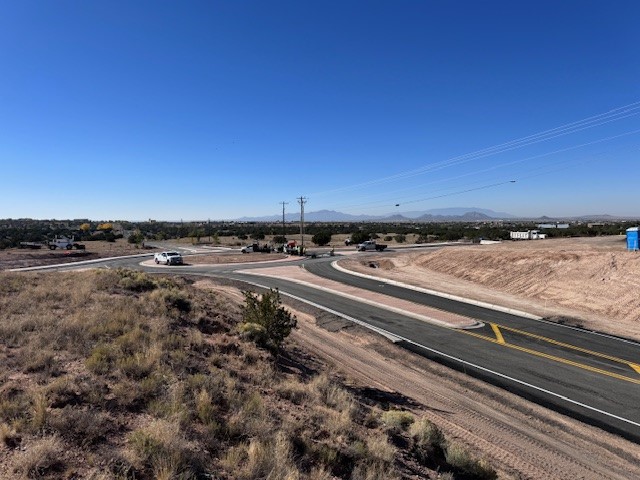 Richards Avenue at Dinosaur Trail Reopens Ahead of Schedule
SANTA FE, NM-The Santa Fe County Public Works Department is excited to announce an early opening of the newly constructed roundabout at Richards Avenue and Dinosaur Trail. Effective Friday, October 20, 2023, at 3:00pm Richards Ave will be fully operational and open to traffic. This is the second of six roundabouts slated for the Northeast and Southeast Connectors Roads Project.
While we are satisfied to reopen Richards Avenue in advance of schedule, we want to inform our residents that the west connection to Dinosaur Trail will be established at a later date. In the interim, the existing signalized intersection located south of this roundabout will remain in full operation to ensure consistent traffic flow. Moreover, the east connection to Rabbit Road is currently under construction and will be opened at a later date.
On September 11, 2023, the contractor commenced work on this roundabout with the strict timeline to complete and reopen Richards Ave within (60) calendar days. Due to an aggressive schedule and optimum weather, this work was completed in (40) days.
This is a great example of the commitment made by Santa Fe County to the community, to streamline any disruptions to traffic while we complete this important road project. Santa Fe County envisions the Northeast and Southeast Connectors Roads project as the most dynamic transportation conduit of the Community College District, strengthening connectivity and safety in this growing community.
For additional information regarding the project, please visit www.sfcconnectors.com or contact Johnny Baca, Project Manager 3, at jpbaca@santafecountynm.gov.
For media-related queries, please contact Olivia Romo, Communications Coordinator, at orromo@santafecountynm.gov.
###