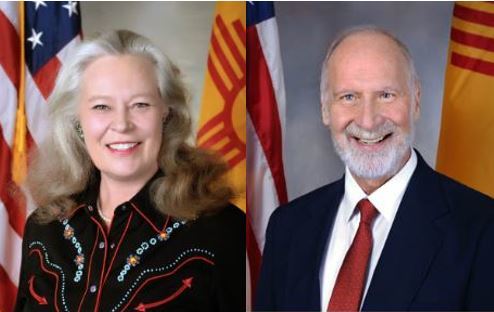 Santa Fe County Announces 2023 Board of County Commissioners Chair and Vice Chair
SANTA FE, NM - The Board of County Commissioners is pleased to announce the election of Anna Hansen, Commissioner D-2, as the 2023 Chair and Hank Hughes, Commissioner D-5, as the 2023 Vice Chair of the Board.
Hansen has been a member of the Board for six years and brings a wealth of experience and leadership skills to the position. She has been actively involved in preserving the Caja del Rio, collaborating with key organizations to develop a safe shooting range in the Buckman and Camel Tracks areas, leading the Northern Rio Grande National Heritage Area as President, chairing the Coalition of Sustainable Communities of New Mexico, and serving her District 2 constituents. In her new role as Chair, Hansen is dedicated to working with the other members of the Board to continue to improve the lives of county residents.
Hughes has been a member of the Board for two and a half years. He recently retired from his position as Executive Director of the Coalition to End Homelessness and is eager to focus on implementing a transfer of development rights program to protect open space and agricultural land, reducing plastic pollution, adopting an affordable housing plan, and completing outstanding road improvements projects in District 5, including the NE/SE Connector roads project. Hughes serves as Vice Chair of the North Central Regional Transit District, and on Santa Fe County's Audit and Investment committees.
The Board of County Commissioners would like to thank Commissioner Anna T. Hamilton for her dedicated leadership as the 2022 Board Chair. We are confident that under Hansen's and Hughes' leadership, the county will continue to thrive and prosper.
The Board invites the public to join them in congratulating Commissioner Hansen and Commissioner Hughes on these well-deserved positions.
Board meetings are held on the second and final Tuesday of each month at 2 p.m. in the historic John Gaw Meem Building/County Courthouse located at 102 Grant Avenue, Santa Fe, NM 87501. The public may attend the meetings in person or virtually via Webex. For more information, please visit Santa Fe County BCC webpage.