How To Use The Santa Fe County Zoning Map
Please review the "How To" instructions below before using the Interactive Zoning Map located at the bottom of the page.
Explore the Map by using the tools at Top Right:
Search for your Property
You can search for a property using any of the following:
Owner name (Example): SMITH, JOHN
Address (Example): 102 GRANT AVE
Parcel (Tax Account) Number (Example): 910017952
You can find your Parcel (Tax Account) Number at the top of your notification letter, right above your name and address.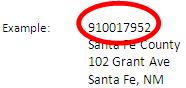 Enter your name and address exactly as it is shown on your notification letter for successful searching.
When the search finds your property, a popup of your Parcel information will appear. In order to view your zoning classification. Please click in your outlined property and follow instructions below to navigate the popup.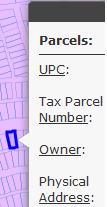 You will be prompted to move through the popups by using the arrow pointed out (Shown below in red