QUICK INFO
Download the Monthly Senior Menus
Santa Fe County Senior Services / Centers
Santa Fe County Senior Centers are closed until further notice. The Santa Fe County Community Services Department is providing home delivered meals in lieu of congregate dining to seniors. We will continue to provide transportation services to those with serious medical conditions. Santa Fe County Senior Services will initiate a system of "caring contacts" to continue regular communication with our senior population.

Santa Fe County is committed to serving the needs of its elder citizens. We are working to promote and enhance the physical, intellectual and social well being of seniors living in Santa Fe County. Join us for the opportunity to develop new friendships, participate in recreational, education and social activities. The Senior Services Program is offering a wide range of quality programs and services to residents of Santa Fe County through County operated Senior Centers.
Senior Center Activity Information
The Senior Program provides many opportunities for creativity, learning and socialization and offers many health and wellness classes. Stop by and enjoy yoga, core exercise, strength training, Tai Chi, billiards, ceramics, weaving, jewelry making, art classes, tin work, pinochle, creative writing, museum visits, and much more. Contact our Activities Coordinators for more information:
Jonathan Pacheco – Chimayo Senior Center – 505-351-4686
Josie Atilano – Santa Cruz Senior Center – 505-753-8598
Ida Lucero – Edgewood Senior Center – 550-281-2515
Lula Wilson – El Rancho Senior Center – 505-455-2195
Esperanza Salazar – Eldorado Senior Center – 505-466-1039
Meal Service
Congregate Meals (Lunch Service)
Individuals are welcome to join us in any of our Senior Centers for lunch. Lunch is served daily between 11:30 a.m. and 1 p.m. There is a suggested donation of $1.50 for individuals age 60+. Guests are also welcome to join us - guest lunches are $7.50.
Meals on Wheels
Santa Fe County is proud to deliver meals to qualified homebound seniors.
Seniors interested in receiving home delivered meals should call (505) 992-3069.
Transportation
Santa Fe County provides a reliable and affordable mode of transportation. Our reliable drivers provide transportation to medical appointments, grocery shopping, volunteer projects, and miscellaneous errands.
For additional information or to schedule transportation please call (505) 992-3069.
Senior Center Information
Edgewood Senior Center
114 Quail Trail
Edgewood, NM 87015
Phone (505) 281-2515
El Rancho Senior Center
394 County Road 84
El Rancho, NM 87506
Phone (505) 455—2195
Abedon Lopez Senior Center (Santa Cruz)
155A Camino De Quintana
Santa Cruz, NM 87567
Phone (505) 753-8598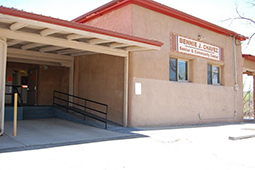 Bennie J. Chavez Senior & Community Center (Chimayo)
354 Juan Medina Road
Chimayo, NM 87522
Phone (505) 351-4686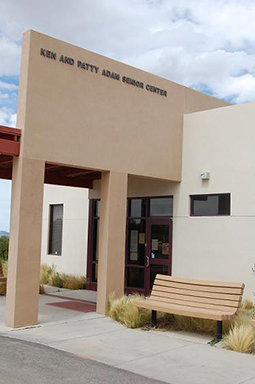 Ken and Patty Adam Senior Center (Eldorado)
16 Avenida Torreon
Santa Fe, NM 87508
Phone (505) 466-1039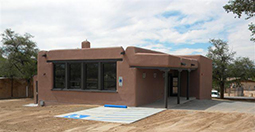 Nambe Senior & Community Center
180 A NM- 503
Santa Fe, NM 87506
Phone: NA