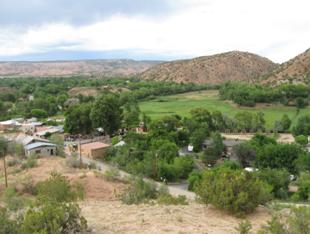 Santa Fe County Planning encourages community organizations to apply to become a Community Organization (CO) or Registered Organization (RO) to receive notifications on development projects within a specific geographic area or area of interest.

Santa Fe County has established a community participation process to provide improved public participation and to provide an organized and fair process whereby public input may be received on applications for development and community development issues. COs and ROs were created to maximize public input on important decisions that affect the County, a community or neighborhood. COs and ROs will receive notifications and be included in pre-application neighborhood meetings for development proposals within the specified area of interest.

COs are appointed by the Board of County Commissioners for a specific geographic area to represent the community. COs have the right to meet with the Administrator concerning matters of interest and to participate in town hall meetings, leadership retreats and trainings.
---
Applications for COs and ROs include a pre-application meeting at the Santa Fe County Planning office. Please contact Senior Planner, Lucy Foma lfoma@santafecountynm.govor 505-995-2735 for more details.
---
Congress of Community Organizations
March 28, 2022 Congreso: 3.28.22 Agenda, 3.28.22 COCO Meeting Summary

Current Community Organizations (COs) Click link to see area boundary
Galisteo Community Association
Tesuque Valley Community Association
San Pedro Neighborhood Association
San Marcos District Planning Committee
La Bajada Traditional Village Committee
Current Registered Organizations (ROs)
285ALL: HWY 285 South Sustainability Alliance
Agua Fria Community Water Association
Aldea de Santa Fe HOA
Arroyo Hondo Land Trust
Campo Conejos HOA
Cerrillos Hills Park Coalition
Concerned Citizens of Cerrillos
El Vadito de Los Cerrillos Water Assocation
El Valle de La Cieneguilla Land Grant
Eldorado Community Improvement Association
Galisteo Mutual Domestic Water Consumers Association
La Bajada Community Ditch
La Mirada Owners Association
Las Campanas Master Association
Los Suenos Trail Alliance
Northwest Residents United
Ranchitos de Galisteo Water Users Association
Salva Tierra HOA
San Marcos Association
Santa Fe Association of REALTORS
Santa Fe Gateway Alliance
Sonrisa HOA
Stop Hunt Power Line, Inc
Turquoise Trail Community Association
Turquoise Trail Regional Alliance