The Hondo Fire District is situated in the Eastern Region of Santa Fe County and provides fire and emergency medical services to the communities of Arroyo Hondo, Sunlit Hills, La Barbaria Canyon/Overlook, Canoncito at Apache Canyon, Canada de Los Alamos, Old Santa Fe Trail, Old Las Vegas Highway, Nine Mile Road, I-25 corridor, Campos Conejos, Rabbit Road, Old Galisteo Road, Arroyo Hondo Estates, Camp Stoney, Seton Village, Rancho de San Sebastian, Cerros Negros and Hondo Hills out of two stations located at 21 Seton Village Road and 645 Old Las Vegas Hwy. near US Hwy. 285. The District is also home to the Eastern Region Paramedic crew (Med 80). As a growing community, the district assists and receives aid from other agencies including Santa Fe County Sheriff's Office, NM State Police, Santa Fe Police Department, Santa Fe Fire Department, NM State Forestry, US Forest Service as well as several other Santa Fe County Districts.
The Hondo Volunteer Fire Department was established in 1974 by the Homeowners Associations of Arroyo Hondo and Sunlit Hills because the city was unable to provide fire protection to those communities. Hondo bought its first pumper for $1250 from Albuquerque and stored it in a large horse barn in Arroyo Hondo. The pumper froze during the winter and in the spring of 1975, they built Station 1. Their first supply of bunker gear was donated by a fire department in New York, which historically wore Black. This tradition remains and Hondo is the only Volunteer District dressed in Black bunker gear. The Hondo Fire District publishes a bi-annual newsletter called "The Alarum" and has an active Auxiliary group. The 20 or so current members range in age from 20s to 60s and come from all walks of life including artists, lawyers, doctors, students, scientists, office workers, real estate agents, self-employed, retirees, bankers, designers and so on. The district's volunteers respond to approximately 500 calls per year with several members who are EMTs and advanced wildland firefighters.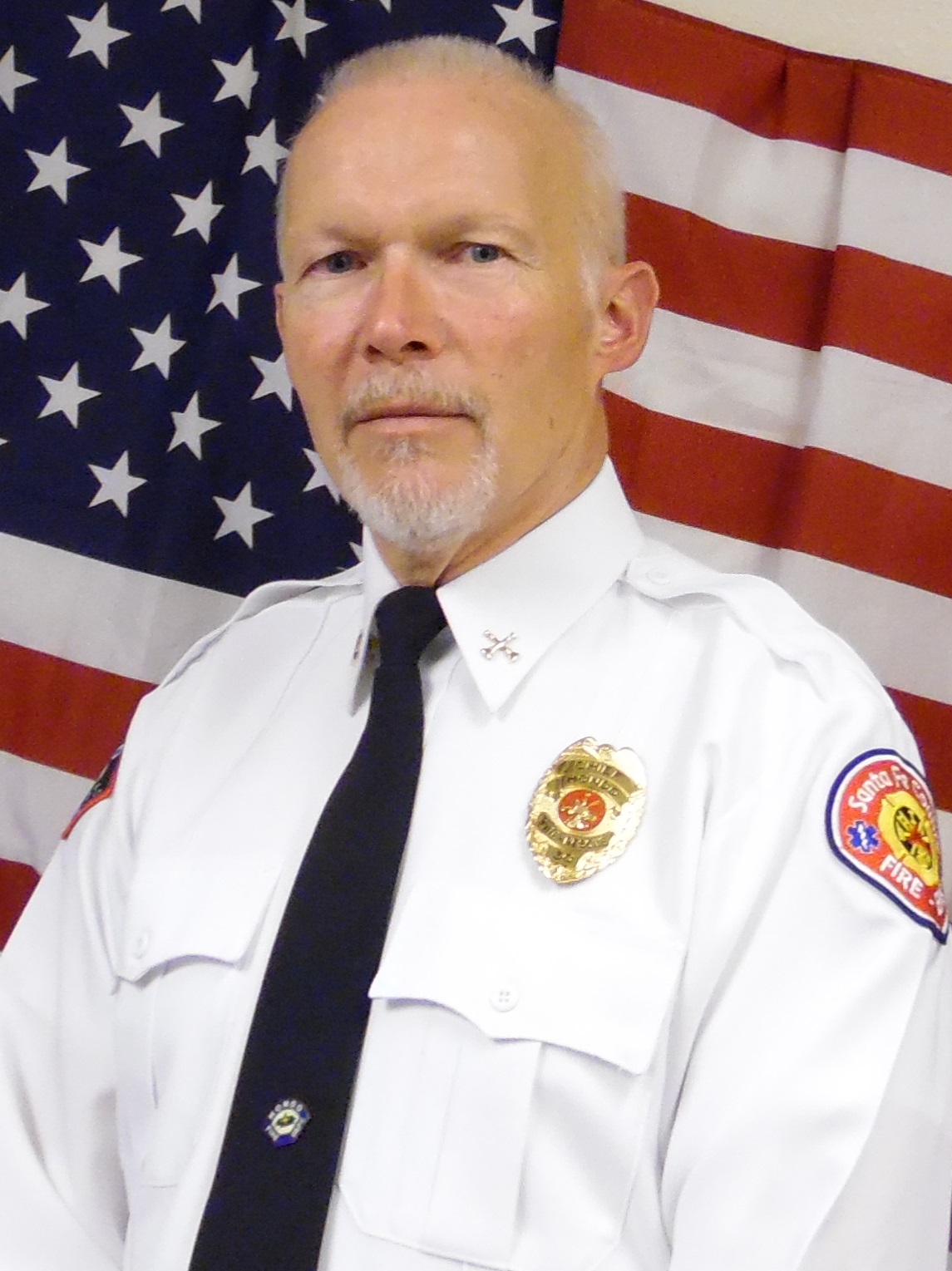 District Chief Protheroe was born in London, and lived in Amsterdam and New York City before moving to Santa Fe in 2008. He has been a Bread Baker, Pastry Chef, Goldsmith, Carpenter, Product Designer, Furniture Maker and Leather Artist. In his free time he enjoys restoring vintage motorcycles.
Terry joined the Hondo Fire District in 2008 and is certified in Wildland and Interior Firefighting as well as Advanced Vehicle Extrication Techniques. He served as the Rescue Training Officer and taught extrication techniques to the Eastern Region for several years before becoming District Chief in 2016. He is also Vice President of the District Chiefs Association.
Contact Information
District Chief: Terry Protheroe
District Phone:505-982-9999
District Fax:505-986-8517
Please keep in mind, some Fire District Stations are not staffed full time, and there may not be anyone there to answer your call. Please leave a message, and someone will return your call as soon as possible. If there is an emergency dial 9-1-1.
Insurance Services Organization (ISO) Rating for the Hondo Volunteer Fire District (4/10):
For more information on ISO Ratings please visit:https://www.santafecountynm.gov/media/files/Fire/PDF/ISO%20Info.pdf